Administrative Systems Training
/ Campus Kronos Training & Instruction
UAB Campus nonexempt employees utilize the Campus Kronos Timekeeping System in order to track the actual hours worked daily on their UAB Campus primary assignment. Benefit eligible nonexempt employees also utilize the Campus Kronos Timekeeping System to document their paid non-worked hours which includes, but not limited to, vacation, sick, personal holiday, bereavement, and jury duty.
---
Nonexempt Employee Online Training
Org Time Editor Online Training
---
Campus Kronos Announcements:
* NEW * Campus Kronos Online Training Course for Non-Exempt Employees - The course titled

Campus Kronos for Non-Exempt Employees

is geared towards instructing non-exempt employees on utilizing the Campus Kronos system for documenting their worked and non-worked hours for payroll processing. Campus Kronos users are able to self-register and attend at any time through the UAB Learning Management System (LMS).

Employees transferring into a new non-exempt assignment will need to be advised via departmental communication.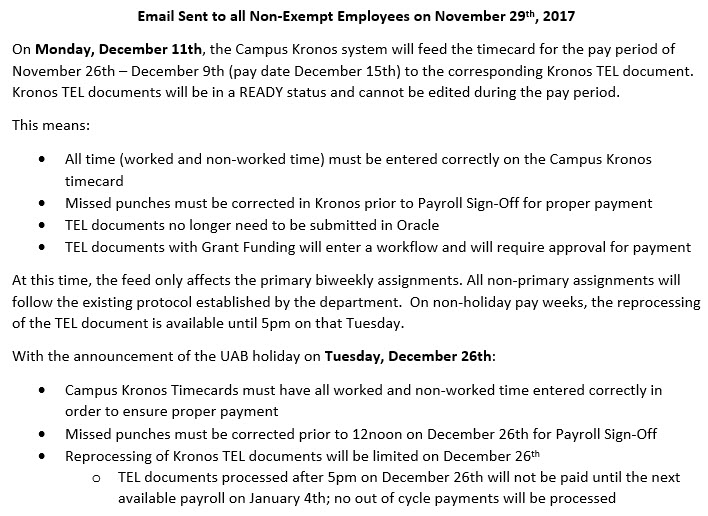 ---
Getting Help: For immediate assistance, please contact the Kronos Help Desk: (205) 934-5122
Campus Kronos related questions can be emailed to: kronos@uab.edu
Campus Kronos staff is available to assist Org Time Editors and nonexempt employees with completing task in the Campus Kronos System during open clinic times every Thursday 2:00 pm - 3:30 pm in AB B60.